The Ultimate Pool Amateur Championships return for 2023 with a new format, increased entries and a new regional qualifying system aimed at truly finding the best amateur player in the UK.
The tournament, reformatted since 2022's edition that was won by now Ultimate Pool Pro Ryan Fleming, will see 12 different regional qualifiers take place across the UK and Ireland over the coming months. Those regional qualifiers are:
Cambridgeshire: The Court, Peterborough, 29th-30th July

Cheshire: Off The Rails, Crewe, Date TBC

Essex: Legends Sports and Pool Bar, Braintree, 1st-2nd July

Kent: Chatham Pool and Snooker Club, Chatham, 1st-2nd July

Ireland: TBC: See ultimatepoolireland.com to register

Leicestershire: Club 147, Leicester, 3rd-4th June

Lincolnshire: The Sportsman, Boston, 1st-2nd July

London: Spots and Stripes, Southwark, 30 April-1st May

Northamptonshire: Wellingborough Cue Sports, Wellingborough, 8th-9th July

Staffordshire: Players Pool and Snooker Lounge, Newcastle-Under-Lyme 13th-14th May

South West: Allstars, Taunton 29th-30th July

Yorkshire: Pilky's Cue Sports Club and Bar, Keighley 24th-25th June
Entry & Format
Entry is £100* and there are two chances to qualify over each regional qualifier's duration with tournaments being played down to a predetermined number on both of the 2 days.
If a local qualifier has 32+ runners, that region will gain 8 entries into the Main Draw. If a local qualifier has 16 or above, but less than 32, that region receive gain 4 entries into the Main Draw.
The main tournament itself will begin on the 9th September, live on Ultimate Pool TV, and will last over the course of nine weekends in the autumn featuring all of the regional qualifying players from around the UK.
The full format, based on 64 players, will see 16 groups of 4 players, with each weekend featuring two groups.
On the Saturday, the groups will play off in a round robin format to eliminate two players from each group, with the top two players from each progressing to the Sunday.
On the Sunday, it will be round robin again to decide the top 2 players, before a weekly final decides who moves on to Finals Day.
The winner stands to bank £5,000 with further prize structure information to be announced.
To enter, contact Neil Toms on +44 7811 111855. Terms and conditions apply, see the UP playing conditions for details.
*This is with the exception of the Ultimate Pool Ireland Qualifiers whose entry requirement is £150 which covers travel and accommodation for their qualifying players in accordance with the terms and conditions of the Ultimate Pool Ireland Qualification Tournament.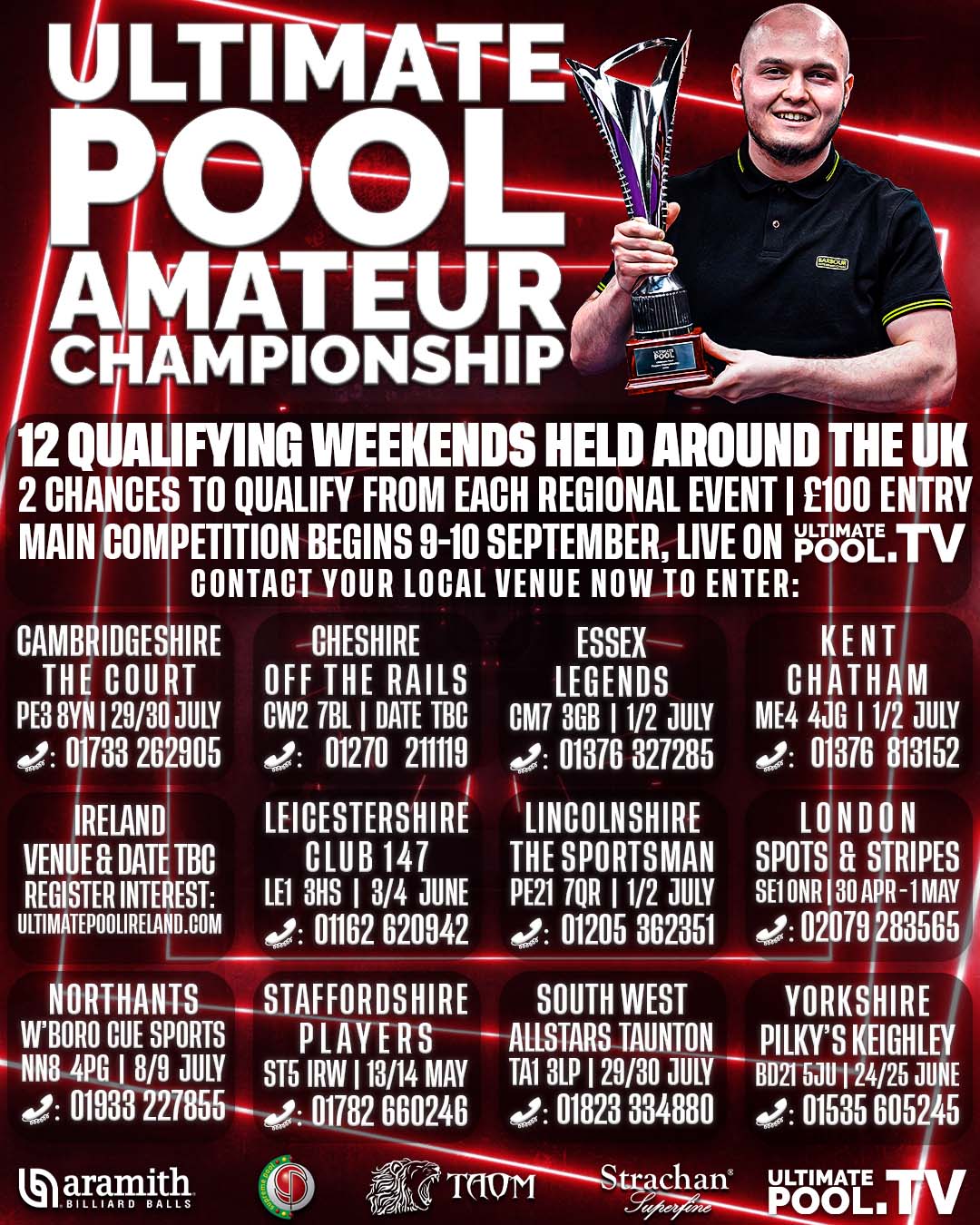 Cambridgeshire: The Court, Peterborough, 29th-30th July. Venue Address: Mallard Road, Peterborough, PE3 8YN. Club Number: 01733 262905

Cheshire: Off The Rails, Crewe, Date TBC. Venue Address: 39 High St, Crewe CW2 7BL. Club Number: 01270 211119

Essex: Legends Sports and Pool Bar, Braintree, 1st-2nd July. Venue Address: 14 Silks Way, Braintree, Essex CM7 3GB. Club Number: 01376 327285

Kent: Chatham Pool and Snooker Club, Chatham, 1st-2nd July. Venue Address: 1-7 Military Road, Chatham, ME4 4JG. Club Number: 01634 813152

Ireland: TBC: See ultimatepoolireland.com to register.

Leicestershire: Club 147, Leicester, 3rd-4th June. Venue Address: 171 Belgrave Gate, Leicester, LE1 3HS. Club Number: 0116 2620942

Lincolnshire: The Sportsman, Boston, 1st-2nd July. Venue Address: Rosebury Avenue, Boston, Lincolnshire, PE21 7QR. Club Number: 01205 362351

London: Spots and Stripes, Southwark, 30 April-1st May. Venue Address: 64 Ewer Street, Southwark, London, SE1 0NR. Club Number: 0207 9283565

Northamptonshire: Wellingborough Cue Sports, Wellingborough, 8th-9th July. Venue Address: Wellingborough, Northampton, NN8 4PG. Club Number: 01933 227855

Staffordshire: Players Pool and Snooker Lounge, Newcastle-Under-Lyme 13th-14th May. Venue Address: 10 Queens Ct, Newcastle-under-Lyme, ST5 1RW. Club Number: 01782 660246

South West: Allstars, Taunton 29th-30th July. Venue Address: 22-23 East Street, Taunton, TA1 3LP. Club Number: 01823 334880

Yorkshire: Pilky's Cue Sports Club and Bar, Keighley 24th-25th June. Venue Address: Heber Street, Keighley, BD21 5JU. Club Number: 01535 605245