Mick Hill defeated snooker star Mark Allen in a pulsating and high-quality final to win Group 5 of the 2022 Ultimate Pool Players Championship and qualify for Finals Weekend in November.
The reigning six-time world champion – arguably the greatest small table 8-ball pool player of all-time – continues his sensational season, having already secured a trio of Pro Series titles earlier in the year.
Hill won four of his five matches during Saturday's league phase to finish second in the standings and qualify for Sunday's knockout portion. His only defeat was to youngster Luke Gilbert, who topped the table with five wins out of five – the first player to collect maximum points in the competition so far.
Northern Irish legend Ronan McCarthy finished third in the group and was joined by fellow countryman Allen who was making his Ultimate Pool debut.
Six-time snooker ranking event winner and 2018 Masters Champion Allen has pedigree on the small table having played in a couple of big tournaments in the past. After defeating four-time world women's champion Emma Cunningham 6-1 first up, he lost to McCarthy (6-5), Gilbert (6-4) and Hill (6-2), but a 6-3 victory over Eddie Barker would eventually secure him the fourth and final qualifying position.
Cunningham came fifth in the group and Barker, sixth.
Action resumed on Sunday with longer format set play, and Allen seemed to move up a level as he ousted Gilbert 8-7 to take the opening set before an 8-2 second set win for a 2-0 triumph overall.
In a clash between two of the most experienced players on the planet, Hill eliminated McCarthy 2-0 in sets (8-4, 8-2).
That meant a mouthwatering group final contest between Hill and Allen on Sunday evening. The match did not disappoint with countless break and reverse clearances, and very few unforced errors.
Allen – who broke very impressively throughout the weekend; a vital element for success in the sport – led 6-4 in the opener, but Englishman Hill strung together four consecutive frames to move one away from the set.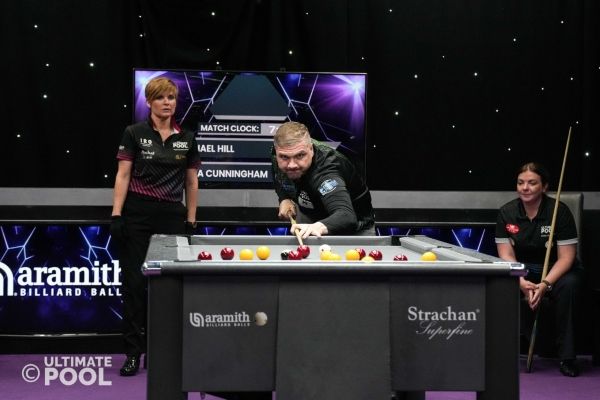 Momentum shifted again, though, with Allen claiming frames 15 and 16 to force a dramatic decider where he nailed a long rescue double and looked set to complete a break clearance to take a sets lead. However, he missed his last red ball – clipping the 8-ball on the way through – to give Hill an opportunity for the set that he gratefully converted in one visit.
Although Allen himself registered two break clearances and a reverse clearance in set two, Hill produced a masterclass, scoring four consecutive break clearances alongside two reverse clearances for a 9-3 success and well-earned 2-0 sets win overall.
Despite defeat, Allen's run to the group final and his performances throughout the weekend in Newcastle-under-Lyme have proved that he already has what it takes to be a nuisance to the world's top players.
Hill joins previous group winners Karl Boyes, Chris Melling, Simon Fitzsimmons and Gareth Potts for the eight-player Finals Weekend.